If you're looking for something special to serve at your next holiday gathering, this recipe is for you. It's my version of a Standing Rib Roast, and you know I'm firing up the smoker to prepare it!
In this recipe, Malcom uses:
4

 

Bone Rib Roast

¼ cup

 

Olive Oil

2 Tablespoons 

Killer Hogs AP Rub

2 Tablespoons 

Killer Hogs Steak Rub

1 Tablespoon

 

Rosemary finely chopped

1 Tablespoon

 

Sage finely chopped

1 Tablespoon

 

Thyme finely chopped

6

 

cloves Garlic minced
---
INSTRUCTIONS
Prepare smoker for indirect cooking at 275⁰; add a couple chunks of seasoned pecan wood to
the hot coals for smoke flavor.
French the ends of the rib roast by trimming away 1 ½-2" of meat between each bone (you can
ask your butcher to do this as well). Truss the roast with butcher twine.
In a small bowl combine the AP Rub, Steak Rub, rosemary, sage, thyme, and garlic.
Coat the outside of the rib roast with olive oil and sprinkle the seasoning mixture on the outside.
Place the rib roast bone side down on the smoker and cook until internal temperature reaches
125 degrees. Use a probe thermometer to monitor internal temperature.
Remove the roast from the smoker and loosely cover with aluminum foil for at least 20 minutes.
To serve: carve the bones away from the rib roast and place it cut side down on the cutting board. Slice the roast into desired slices and serve.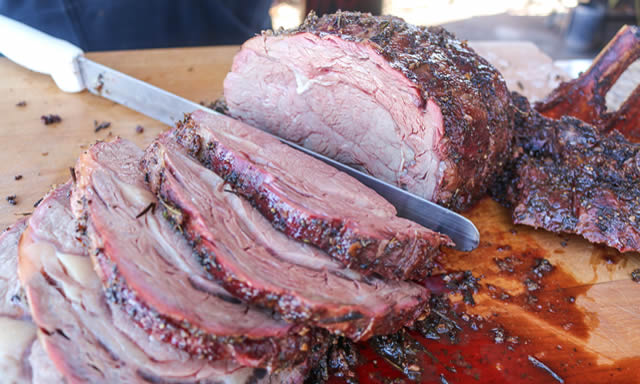 DID YOU MAKE THIS RECIPE?